Civil GPS Service Interface Committee
U.S. State & Local Government Subcommittee
Regional Meeting
Seattle 2012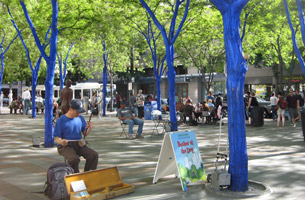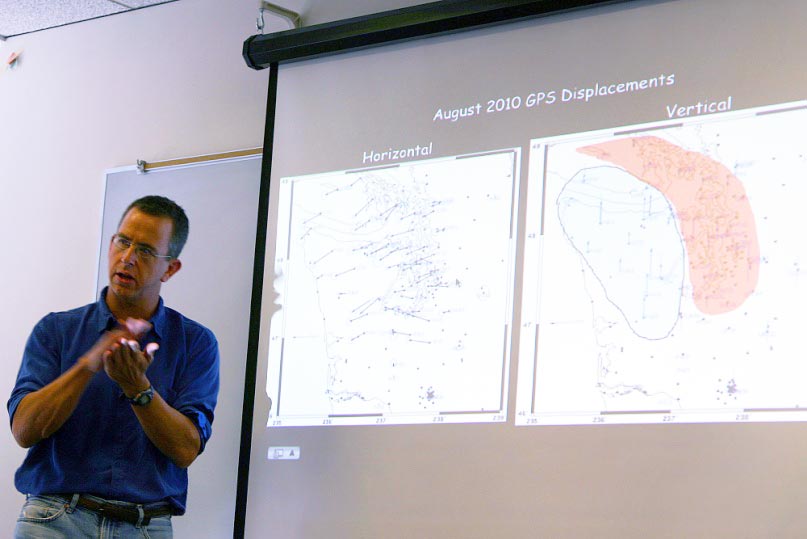 A meeting of the Civil GPS Service Interface Committee (CGSIC) State and Local Government Subcommittee was held at the Seattle Municipal Tower on August 14, 2012.
All thanks go to our hosts, the Washington State Reference Network for their kind support. Welcome was provided by Gary Gervelis, Executive Director of the Washington Geodetic Survey.
The agenda and presentations are available for downloading and viewing below. Go there...
Tour and Technology Demonstrations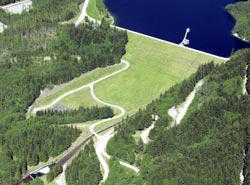 Gavin Schrock kindly devoted a day to a tour of the Tock Reservoir, water supply for the City of Seattle. A pioneering high-precision real-time GPS monitoring system has been in operation since 2008 and has been featured in papers at national and international conferences.
The tech tour for the CGSIC-USSD made a stop to meet up with the custom mobile-mapping crew of David Evens Associates, which has been working through a mapping project that will include thousands of miles of roads for Snohomish County Public Works.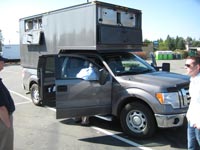 A custom enclosure was built tall on a large pickup truck to afford the 14 synchronized cameras a clear view of the roads and road rights of way. The truck uses GNSS receivers as well as ground targets to geo-register the millions of images it collects and stores in on-board solid-state-drive servers. From the collected and registered images, high precision photo-interp positions can be extracted for all visible roadside features.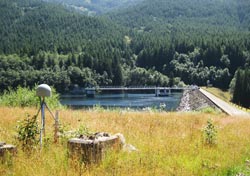 Next stop was Tolt Dam, an earthen water supply dam built and operated by Seattle Public Utilities. Tolt Dam has had GNSS monitoring running for more than four years. It is one of the first dams to be monitored with this particular style of dual-frequency GNSS monitoring system, which employs suites of "motion engines" to provide hierarchical monitoring referenced to local, regional, and statewide continuously operating reference stations (CORS). The project has been internationally recognized by the dam safety and structural integrity monitoring industries and associations. 
The group was given a tour of a local CORS onsite, as well as monitoring stations and onsite monitoring servers and a demonstration of reaction time and precision of the system by inducing movement to one of the monitoring antenna mounts.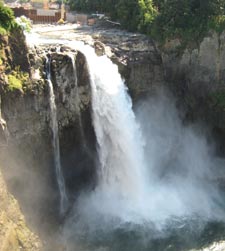 Snoqualamie Falls, one of the premier tourist destinations in the Seattle area, has a hidden secret: a hydroelectric powerhouse, built in 1898-1899 just above Snoqualmie Falls inside a bedrock cavity 270 feet below ground.
The plant's five power-generating units have 11.9 megawatts (MW) of generating capacity. A second powerhouse was built in 1910 a quarter-mile downstream from the falls and expanded in 1957. Its two generating units have 32.5 MW of generating capacity, and upgrades are under way. Puget Sound Energy PSE is making substantial upgrades and enhancements to its power-generating infrastructure and public facilities, including new generators, water-intake structures, and penstocks at Plant 1 and Plant 2, boosting the project's authorized output of 44 MW to a 54 MW capacity.
The falls are a regional and international icon and have served as a backdrop for movies and television including Twin Peaks and Northern Exposure.
Agenda
Tuesday, August 14, 2012
8:30 AM Welcome
Gary Gervelis, Executive Director
Washington Geodetic Survey
8:35 Introductions
Rudy Persaud Chair, U.S. State and Local Government Subcommittee of the Civil GPS Service Interface Committee, U.S. DOT/FHWA
8:40 Civil GPS Service Interface Committee
Captain William Burns, Commanding Officer
U.S. Coast Guard Navigation Center
View presentation (2 MB PDF)
9:00 U.S. Diplomatic GNSS Activities
Anita Eisenstadt, Advisor to NCO
U.S. Department of State
View presentation (914 KB PDF)
8:20 GPS Constellation Briefing
Steve Dirks, Captain, U.S. Air Force
Second Space Operations Squadron (2 SOPS)
View presentation (331 KB PDF)
9:40 Civil PNT Utilities
Timothy Klein, Senior Policy Advisor
U.S. DOT/Research and Innovative Technology Administration
View presentation (2 MB PDF)
10:00-10:15 Break
10:15 DHS PNT Interference, Detection, and Mitigation
Rick Hamilton for John Merrill, DHS PNT Program Manager
View presentation (2 MB PDF)
10:35 Nationwide DGPS Project Status
Christian Hernaez, Lieutenant, U.S. Coast Guard Navigation Center
View presentation (2 MB PDF)
10:55 Experimental Landing System
Roger Friedman, Boeing Flight Test Center, Seattle
11:15 National Geodetic Survey update
Mark Armstrong, Oregon State Advisor
View presentation (6 MB PDF)
11:35 Connected Vehicle Highway Network Applications
James Arnold, U.S. DOT/ FHWA
View presentation (9 MB PDF)
11:55-1:00 Lunch break
1:00 PM Media Perspectives on GNSS
Eric Gakstatter, GPS World Magazine
View presentation (617 KB PDF)
1:20 Surveying and Mapping in Remote Locations with GNSS
Daniel Renton, Minister and Glaser Surveying
1:40 Regional Monitoring of Plate Tectonics
Dr. Tim Melbourne, Central Washington University
View presentation (5 MB PDF)
2:00 Regional Monitoring of Critical Infrastructure
Gavin Schrock, Washington State Reference Network
View presentation (6 MB PDF)
2:40 Asset Inventory and the SWAMP Team
Scott Reese, Seattle Public Utilities
View presentation (4 MB PDF)
3:00-3:15 Break
3:15 U.S. State and Local Government Subcommittee
Rudy Persaud, Chair
View presentation (117 KB PDF)
4:00 End of Meeting and Thanks