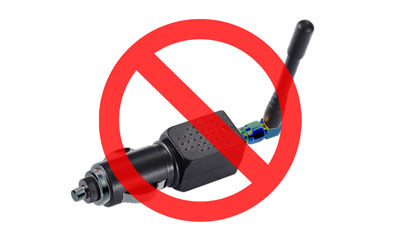 Information About GPS Jamming
Federal law prohibits the operation, marketing, or sale of any type of jamming equipment that interferes with authorized radio communications, including cellular and Personal Communication Services (PCS), police radar, and Global Positioning Systems (GPS).
Signal jamming devices can prevent you and others from making 9-1-1 and other emergency calls and pose serious risks to public safety communications, as well as interfere with other forms of day-to-day communications.
The use of a phone jammer, GPS blocker, or other signal jamming device designed to intentionally block, jam, or interfere with authorized radio communications is a violation of federal law. There are no exemptions for use within a business, classroom, residence, or vehicle. Local law enforcement agencies do not have independent authority to use jamming equipment; in certain limited exceptions use by Federal law enforcement agencies is authorized in accordance with applicable statutes.
It is also unlawful to advertise, sell, distribute, import, or otherwise market jamming devices to consumers in the United States.
The use or marketing of a jammer in the United States may subject you to substantial monetary penalties, seizure of the unlawful equipment, and criminal sanctions including imprisonment.
What To Do If You Believe Authorized Communications Are Being Jammed
A loss of or interference with service can occur for a variety of reasons. If you are experiencing problems with your service, your first course of action should be to contact your wireless provider to investigate the issue. You should also troubleshoot your equipment and connectivity issues in accordance with manufacturer and service provider recommendations.
If after contacting your provider and confirming that equipment and connectivity is not the cause of the interference, and you still have reason to believe that someone is using a jammer, or you would like to report the selling, advertising, shipping, distributing, or importing of jammers, you may file a complaint or submit an inquiry through the FCC. Learn more at FCC.gov