Rail systems throughout the world use GPS to track the movement of locomotives, rail cars, maintenance vehicles, and wayside equipment in real time. When combined with other sensors, computers, and communications systems, GPS improves rail safety, security, and operational effectiveness. The technology helps reduce accidents, delays, and operating costs, while increasing track capacity, customer satisfaction, and cost effectiveness.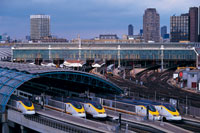 U.S. passenger and freight railroads are fielding GPS-based Positive Train Control (PTC) systems. PTC refers to communication-based/processor-based train control technology designed to prevent train-to-train collisions, over speed derailments, incursions into established work zone limits, and the movement of a train through a main line switch in the improper position.
PTC systems vary widely in complexity and sophistication based on the level of automation and functionality being implemented, the system architecture used including wayside systems (e.g., non-signaled, block signal, cab signal, etc.), and the degree of train control. This advanced safety technology, required by federal law, will be operational on over 60,000 miles of the national rail system in the 2018 to 2020 timeframe.
Beyond PTC, GPS-based technology gives dispatchers and passengers accurate information on train location and station arrival times. It enables the automation of track surveying, mapping and inspection systems that work much faster and more accurately than non-GPS based systems, saving time and money while improving safety.
GPS is used to synchronize the timing of railroad communication systems, including data transmissions for PTC, voice contact between locomotive engineers and dispatchers, and intermodal communications among trains, rail stations, ports, and airports.
Looking to the future, researchers are exploring ways to integrate GPS into vehicle-to-vehicle communication systems that could warn trains and cars of potential collisions at railroad crossings.
Benefits
Increased situational awareness for improved safety of trains and maintenance crews.
Prevention of collisions, derailments, work zone incursions, and rail switch errors.
Increased capacity and efficiency for all rail users. Automated track surveys and inspections.
Time synchronization for communication systems.
"Knowing the exact location of our commuter trains has been a great benefit to our riders. Each of our commuter trains is fitted with a GPS receiver and a communications system that relays our position to our Internet site on a real time basis. From there it is available to any interested party who wants to know where the train is and when to expect it."
James W. Latchford, Road Trainmaster, AMTRAK/Virginia Railway Express
Related websites: