Space Segment
The GPS space segment consists of a constellation of satellites transmitting radio signals to users.
The United States is committed to maintaining the availability of at least 24 operational GPS satellites, 95% of the time.
To ensure this commitment, the Air Force has been flying 31 operational GPS satellites for the past few years.
Constellation Arrangement
GPS satellites fly in medium Earth orbit (MEO) at an altitude of approximately 20,200 km (12,550 miles). Each satellite circles the Earth twice a day.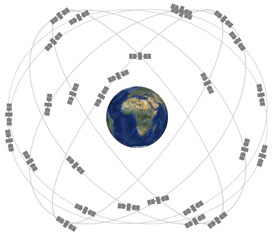 Enlarge
Expandable 24-Slot satellite constellation, as defined in the SPS Performance Standard.
The satellites in the GPS constellation are arranged into six equally-spaced orbital planes surrounding the Earth. Each plane contains four "slots" occupied by baseline satellites. This 24-slot arrangement ensures users can view at least four satellites from virtually any point on the planet.
The Air Force normally flies more than 24 GPS satellites to maintain coverage whenever the baseline satellites are serviced or decommissioned. The extra satellites may increase GPS performance but are not considered part of the core constellation.
In June 2011, the Air Force successfully completed a GPS constellation expansion known as the "Expandable 24" configuration. Three of the 24 slots were expanded, and six satellites were repositioned, so that three of the extra satellites became part of the constellation baseline. As a result, GPS now effectively operates as a 27-slot constellation with improved coverage in most parts of the world. Learn more at AF.mil
Technical details about the orbits, coverage, and performance of the GPS satellite constellation are documented in the GPS Performance Standards. View document

Return to top of page
Current and Future Satellite Generations
The GPS constellation is a mix of old and new satellites. The following table summarizes the features of the current and future generations of GPS satellites, including Block IIA (2nd generation, "Advanced"), Block IIR ("Replenishment"), Block IIR-M ("Modernized"), Block IIF ("Follow-on"), and GPS III.
Learn about GPS modernization
View full-size images
<-- Drag table to scroll -->
Legacy Satellites
Modernized Satellites
Block IIA
Block IIR
Block IIR-M
Block IIF
GPS III
0
operational
12
operational
7
operational
12
operational
In production

Coarse Acquisition (C/A) code on L1 frequency for civil users
Precise P(Y) code on L1 & L2 frequencies for military users
7.5-year design lifespan
Launched in 1990-1997
Last one decommissioned in 2016

C/A code on L1
P(Y) code on L1 & L2
On-board clock monitoring
7.5-year design lifespan
Launched in 1997-2004

Learn more at af.mil

All legacy signals
2nd civil signal on L2 (L2C)
Learn more
New military M code signals for enhanced jam resistance
Flexible power levels for military signals
7.5-year design lifespan
Launched in 2005-2009

Learn more at af.mil

All Block IIR-M signals
3rd civil signal on L5 frequency (L5)
Learn more
Advanced atomic clocks
Improved accuracy, signal strength, and quality
12-year design lifespan
Launched in 2010-2016

Learn more at af.mil

All Block IIF signals
4th civil signal on L1 (L1C)
Learn more
Enhanced signal reliability, accuracy, and integrity
No Selective Availability
Learn more
Satellites 11+: laser reflectors; search & rescue payload
15-year design lifespan
First launch no earlier than 2018

Learn more at af.mil
As of October 17, 2017, there were a total of 31 operational satellites in the GPS constellation, not including the decommissioned, on-orbit spares.
For more up-to-date constellation status information, visit the NAVCEN website. Go there

Return to top of page
Recent Developments

Return to top of page