1997-2004 News Items
From the IGEB Era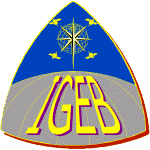 The Interagency GPS Executive Board (IGEB) was the predecessor to the National Executive Committee for Space-Based PNT. Established by Presidential directive in March 1996, the IGEB operated through December 2004. The following GPS-related materials were released during that time period.
Unfortunately, many of the source documents mentioned below are no longer online.
2004
2003
Jul: FAA Commissions Wide Area Augmentation System (WAAS) for Aviation Use
2002
2001
Jun 29: Announcement of Public Forum on the New Civil GPS Signals
Apr: Independent Review Board Completes Review of WAAS Program
Apr: Public Comments Invited on ICD-GPS-200C (extended to April 20, 2001)
2000
Oct: GPS Outreach Booth Exhibited at International Transportation Symposium
Oct: FCC Extends Comment Period on UWB Rulemaking
Aug: GPS Funding Bill Signed into Law
Jun: Western Governors' Association Letter Endorsing GPS Modernization and NDGPS
Jun 20: GPS Industry Fair on Capitol Hill
Jun: U.S. Succeeds in Protecting and Expanding GPS Spectrum at WRC-2000
Apr 4: DOT Letter to Congress and Civil GPS Brochure
Mar: GPS III, Selective Availability, and Other Topics Discussed at CGSIC
Mar: Planning Begins on "GPS III" Satellites To Meet Future Requirements Through 2030
Mar: Congressional Testimony of Commerce Under Secretary Cheryl Shavers: "By adopting a home outside the DOD, the IGEB wanted to demonstrate to the world that GPS is not a purely military system but has growing commercial applications."
Mar: Congressional Testimony of FAA Administrator Jane Garvey: "GPS is ranked as the Department's second most important 'Flagship' initiative."
Feb: President Requests $617 Million in FY 2001 for GPS Sustainment and Modernization
1999
1998
1997
Feb: White House Commission on Aviation Safety and Security Recommends Additional Civilian GPS Signal to Enhance Aviation Safety
Please note that some links on this page lead to other websites beyond GPS.gov.
Some links on this page lead to content in the Portable Document Format (PDF) and may require you to install PDF software. Get software