Civil GPS Service Interface Committee
International Information Subcommittee
European Meeting
Munich 2015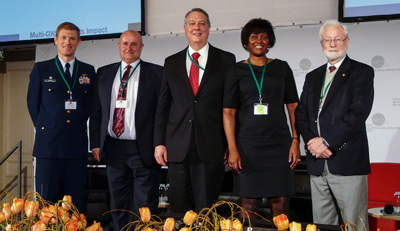 The International Information Subcommittee (IISC) of the Civil GPS Service Interface Committee (CGSIC) convened in Munich, Germany, on March 26, 2015. The IISC meeting was organized as an official session of the Munich Satellite Navigation Summit (Session 10: "GPS in a Multi-GNSS World"). Visit event website
Questions addressed include:
What are service providers doing to prepare for an eventuality that will see four GNSS overhead, each with its own regional SBAS?
How are transportation officials and equipment manufacturers providing for user safety and efficiencies by helping to make a global journey seamless and affordable?
What are the international trade issues we will all be faced with?
How is the international community banding together to address operational issues such as interference detection and mitigation, interoperability and standardization and improving cooperation between service providers?
What challenges will service providers have to overcome to operate in a multi-GNSS world?
U.S. presentations from other sessions of the Munich Satellite Navigation Summit are available in the Multimedia section of this website. Go there
Agenda
Some links on this page lead to content in the Portable Document Format (PDF) and may require you to install PDF software. Get software