Free STEM Lessons Based on GPS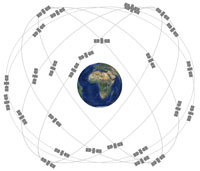 The U.S. government has released a new educational curriculum that uses GPS concepts and activities to stimulate student interest in science, technology, engineering, and mathematics (STEM).
The curriculum is designed for the middle/high school level and tied to the Next Generation Science Standards (NGSS).
Thanks to all the educators who have helped us test the lesson plans in classrooms to see how students respond to the material. Your feedback improved the curriculum prior to its finalization.
We are now reaching out to schools, educators, and after-school programs to encourage widespread adoption of this free STEM curriculum during the 2018-2019 school year.
The curriculum is currently hosted at www.GPS-STEM.com, but we plan to migrate it to the official GPS.gov website.
GPS-STEM.com is maintained by CrossFire Business Solutions LLC and Softek Enterprises LLC, the federal contractors assisting the U.S. government on this STEM education project.
For additional educational resources related to GPS, please visit GPS.gov/students