U.S. Presentations from ICG-10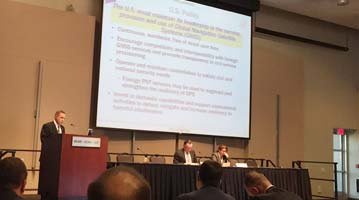 November 2, 2015
U.S. government officials delivered the following presentations about GPS during the Tenth Meeting of the International Committee on GNSS (ICG-10), held November 2-5, 2015, in Boulder, Colorado.

DOWNLOAD 454 KB

U.S. Space-Based Positioning, Navigation and Timing (PNT) Policy Update

This presentation provides a review of the U.S. GPS policy and management structure, plus an update on complementary PNT.


DOWNLOAD 1.7 MB

GPS Status & Modernization Progress: Service, Satellites, Control Segment, and Military GPS User Equipment

This presentation provides an update on the status of the GPS constellation, performance, and modernization.


DOWNLOAD 500.1 KB

Wide Area Augmentation System (WAAS) and NDGPS Update

This presentation provides updates on the WAAS program and the partial decommissioning of the NDGPS network.
Some links on this page lead to content in the Portable Document Format (PDF) and may require you to install PDF software. Get software