U.S. Presentations from Munich Satellite Navigation Summit
March 26, 2014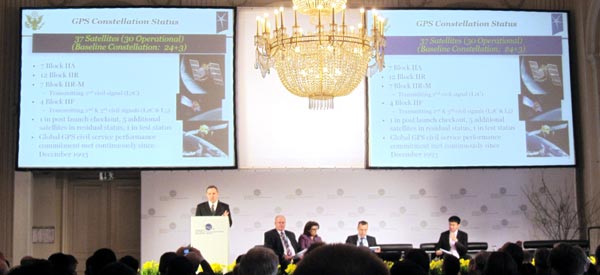 U.S. government officials delivered the following presentations about GPS during the Munich Satellite Navigation Summit, held March 25-27, 2014, in Munich, Germany.

DOWNLOAD 1.1 MB

U.S. Space-Based Positioning, Navigation and Timing Policy and Program Update

This presentation reviews current U.S. GPS policy and provides updates on GPS constellation status, performance, modernization, and augmentations.


DOWNLOAD 221.4 KB

U.S. Government International Activities Addressing GPS/GNSS Interference and Jammer Proliferation

This presentation describes U.S. efforts to communicate its growing concerns about GPS/GNSS interference sources, including jammers, to other nations. It also describes multilateral efforts to protect GNSS and critical GNSS users from interference.
Some links on this page lead to content in the Portable Document Format (PDF) and may require you to install PDF software. Get software