Presentations from APEC GIT/16
February 15, 2012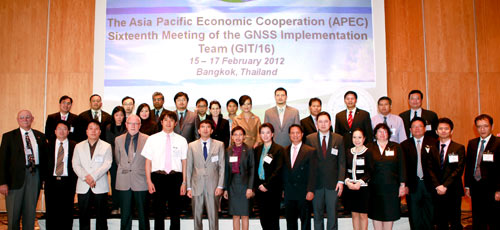 U.S. government officials delivered the following presentations about GPS during the 16th meeting of the GNSS Implementation Team (GIT/16) of the Asia Pacific Economic Cooperation (APEC), held February 15-17, 2012, in Bangkok, Thailand.

DOWNLOAD 1.3 MB

Global Positioning System Status

This presentation provides updates on the operational GPS constellation, GPS performance, and GPS modernization plans.


DOWNLOAD 511.6 KB

U.S. Civil GNSS International Cooperation

This briefing summarizes the U.S. policy on GNSS cooperation, current U.S. relationships with Japan, Russia, Europe, China, and India, and U.S. contributions to the International Committee on GNSS.
Some links on this page lead to content in the Portable Document Format (PDF) and may require you to install PDF software. Get software