U.S. Presentations from IAIN 2009
October 28, 2009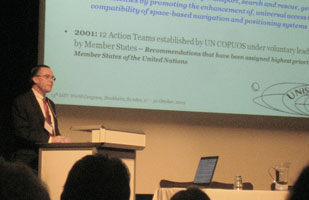 The following presentations were delivered by the U.S. government representatives at the 13th Congress of the International Association of Institutes of Navigation (IAIN), organized by the Nordic Institute of Navigation on October 27-30, 2009, in Stockholm, Sweden.

DOWNLOAD 900 KB

International Committee on Global Navigation Satellite Systems (ICG): Coordination and Cooperation

Kenneth Hodgkins, U.S. Department of State

This briefing summarizes the establishment and current efforts of the ICG, including the recent ICG-4 meeting in St. Petersburg, Russia.


DOWNLOAD 5 MB

Global Navigation Satellite Systems: Progress through Cooperation

Jason Kim, National Coordination Office

This briefing provides an update on the GPS constellation, U.S. policy implementation, and international cooperation efforts.
Some links on this page lead to content in the Portable Document Format (PDF) and may require you to install PDF software. Get software
Some links on this page lead to content in Microsoft PowerPoint (PPT) format and may require you to install PowerPoint reader software. Get software