U.S. Presentations from
APEC GNSS Implementation Team Meeting
June 27, 2007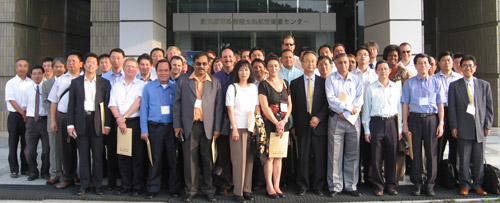 The following presentations were delivered by the U.S. government representatives at the 11th meeting of the GNSS Implementation Team (GIT) of the Asia-Pacific Economic Cooperation (APEC), held in Tokyo, Japan.

DOWNLOAD 3.4 MB

United States Space-Based Positioning, Navigation & Timing Policy and GPS Modernization Update

Maureen Walker, National Coordination Office for Space-Based PNT

This briefing provides an update on the implementation of the U.S. space-based PNT policy and the GPS modernization program.


DOWNLOAD 800K

GNSS Regional and Global Cooperation

Alice Wong, Department of State

This briefing provides an overview of U.S. efforts to promote GPS cooperation with various nations and international organizations.
Some links on this page lead to content in the Portable Document Format (PDF) and may require you to install PDF software. Get software
Some links on this page lead to content in Microsoft PowerPoint (PPT) format and may require you to install PowerPoint reader software. Get software