Jan Brecht-Clark
Director, National Coordination Office for
Space-Based Positioning, Navigation, and Timing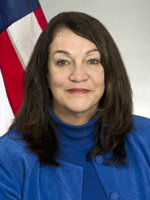 Download high resolution JPG (3 MB)

Dr. Jan Brecht-Clark served as the Director of the National Coordination Office for Space-Based Positioning, Navigation, and Timing from December 2012 until her retirement in December 2013.
She was a Senior Executive Service (SES) official from the Department of Transportation (DOT) with recognized expertise in research and policy development related to transportation safety and security.
In 2011-2012, Dr. Brecht-Clark served for 19 months as the Counselor for Transportation with the U.S. Embassy in Kabul, Afghanistan. She managed a team that assisted the Afghan government in the design and approval of both a civil aviation authority and a railroad authority.
Prior to that, Dr. Brecht-Clark was Associate Administrator for Research, Development and Technology at DOT's Research and Innovative Technology Administration. She also served as a Deputy Director in the Transportation Security Administration (TSA), Director of Aviation and Transportation Security on the Homeland Security Council, and Director of Aviation and Transportation Security in the White House Office of Homeland Security. Earlier in her career, Dr. Brecht-Clark held positions at the FAA, the State of Ohio, and private industry.
Dr. Brecht-Clark graduated from The University of Iowa and earned her Ph.D. from The Ohio State University.