Frank van Diggelen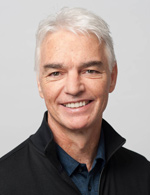 144 KB JPG
Dr. Frank van Diggelen is a Principal Engineer at Google, where he leads the Android Core-Location Team. He also teaches at Stanford University, where he created an on-line GPS course, offered free through Stanford University and Coursera. In its first release this course attracted over 30,000 registrants from 192 countries.
Van Diggelen is a pioneer in Assisted GNSS, the technique that allows GPS to work in cell phones. He is the inventor of coarse-time GNSS navigation, co-inventor of Long Term Orbits for A-GNSS, and holds over 90 issued US patents on A-GNSS. He is the author of "A-GPS" the first textbook on Assisted GNSS. He is Executive Vice President of the Institute of Navigation and a Fellow of the ION and the Royal Institute of Navigation (UK), and past recipient of both the Thurlow and Kepler awards of the ION.
He was a navigation Officer in the South African Navy. He obtained his bachelor's degree from the University of the Witwatersrand, South Africa, and Ph.D. in electrical engineering from Cambridge University, England.