Eileen Reilly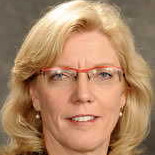 Ms. Reilly is the founder and CEO of Global Train Services LLC (GTS), which assists railroads with implementing and adding resiliency for their Positive Train Control (PTC) systems. PTC relies heavily on a resilient and robust position, navigation, and timing (PNT) solution.
Ms. Reilly began her railroad career as an IBM contractor for the Alaska Railroad (AKRR), a full-service passenger and freight railroad, where she made an immediate impact to the technological advancement of the company. In 1996, after a stint as an independent contractor for information technology, she officially joined the Alaska Railroad (AKRR), a full-service passenger and freight railroad. She rose through the ranks to become the Vice President (VP) of Projects, Engineering, Technology, & Signal. Ms. Reilly was a VP at AKRR until her retirement from AKRR in 2018.
In her time at AKRR, she procured and oversaw $500 million of grant funding with no cost overruns. She led the AKRR's Capital Program, which included PTC. The AKRR was an early adopter of PTC, since it had both freight and passenger service sharing a single track with passing track periodically spaced. This led to Ms. Reilly volunteering and being accepted to be a member of the Railroad Safety Advisory Committee for 49 CFR 236 Subpart H and Subpart I, which assisted in generating the regulations that PTC systems must comply with.
After retiring from the AKRR, Ms. Reilly founded GTS, whose services include testing, defining and supporting additional GNSS radio-frequency bands for a space-based PNT solution, procuring grants, and complying with federal regulations. As CEO, she has grown the company each year, expanded the scope of GTS's capabilities, and earned a solid relationship with clients throughout the industry.
Ms. Reilly has been a board member for the Commuter Rail Coalition for two years and supports a strong commuter railroad presence. Ms. Reilly is a member of American Railway Engineering and Maintenance-of-Way Association (AREMA) Committee 37 – Signal Systems and Committee 39 – Positive Train Control, American Short Line and Regional Railroad Association (ASLRRA) and League of Railway Women (LRW). Ms. Reilly attended the U.S. Merchant Marine Academy and is a graduate of Rutgers University. Ms. Reilly was one Railway Age Women in Rail 2020 Honorees.