Refaat M. Rashad
Egypt
This individual is a former member of the National Space-Based PNT Advisory Board. The following information has not been updated since his/her service ended.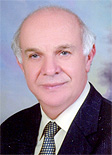 Dr. Rashad is the founder of the Arab Institute of Navigation (AIN) and the President since 2001. He is also Chairman of the International Transport Research Center (INTREC) of Egypt.
Dr. Rashad has served as a professor of navigation and hydrographic surveying and head of the postgraduate studies department of the Arab Academy for Science and Technology and Maritime Transport in Egypt. He was an associate professor in the Faculty of Marine Science at the King Abdul-Aziz University. He served as a marine expert for UNDP/IMO for several projects. He has also been a master mariner for merchant shipping companies based in Egypt and Lebanon.
Dr. Rashad holds bachelors, masters, and doctoral degrees in maritime studies from the University of Wales, UK. He published several books, articles and papers related to the technology of marine navigation and have served as chief editor or member of editorial staff for various maritime journals.