Bradford Parkinson
1st Vice Chair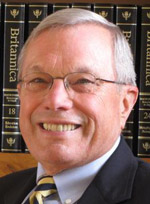 Dr. Bradford Parkinson was the Chief Architect for GPS, and led the original advocacy for the system in 1973 as an Air Force Colonel. Gaining approval, he became the first Director of the GPS Joint Program Office and led the original development of spacecraft, Master Control Station and 8 types of User Equipment. He continued leadership of the Program through the extensive test validation Program, including being the Launch Commander for the first GPS satellite launches. This original deployment of GPS demonstrated comfortable margins against all PNT (Positioning, Navigation, and Timing) requirements.
Earlier in his career, he was a key developer of a modernized AC-130 Gunship, introduction of which included 160 hours of combat missions. He was an instructor at the USAF Test Pilot School. In addition he led the Department of Astronautics and Computer Science at the US Air Force Academy. He retired from the U.S. Air Force as a Colonel.
He was appointed a Professor at Stanford University in 1984, after six years of experience in industry. At Stanford University, he led the development of many innovative applications of GPS, including:
First Commercial aircraft (Boeing 737) blind landing using GPS alone,
First fully automatic GPS control of Farm Tractors on a rough field to an accuracy of 2 inches,
Pioneering studies of the FAA's WAAS, an augmentation that allows any user to achieve accuracies of 2 feet and very high levels of integrity assurance.
Dr. Parkinson has been the CEO of two companies and serves on many boards. He is an editor/author of the AIAA Award winning 2 Volumes GPS Theory and Applications and is author or coauthor of over 50 technical papers. He graduated from the US Naval Academy, and has a Master's degree from MIT and a PhD from Stanford.
He is a fellow of five societies, including Honorary Fellow of AIAA and Life Fellow of IEEE. Among his many awards is the Draper Prize of the National Academy of Engineering, considered by some to be the "Engineering Nobel" and the 2019 Queen Elizabeth II Prize for Engineering (with three others).