Dr. Suresh V. Kibe
India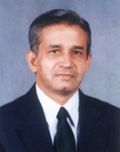 Kibe serves as India's program director, SATNAV and deputy director, INSAT program. As the director, he is responsible for planning the Indian SATNAV program and interacting with user agencies and international groups. As deputy director, he is responsible for future planning of the INSAT System.
Kibe earned his doctorate from the Birla Institute of Technology and Science, Pilani, India. He is the author of several papers in U.S. and U.K. journals. He was invited by the Director General, European Space Agency to serve as an International Fellow to work on Global Navigation Satellite Systems.
He is a Member of the National Steering Committee for satellite based CNS/ATM chaired by the Secretary, Civil Aviation, government of India. Kibe is a member from India to the UN International Committee on GNSS, Office of Outer Space Affairs, Vienna, and is a member of the Indo-U.S. Working Group on Civil Space.