Larry James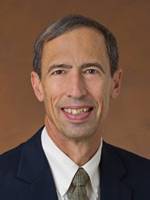 Larry D. James is the Deputy Director of the Jet Propulsion Laboratory, a position he has held since August 2013. He retired from the Air Force in 2013 as a Lieutenant General.
Over the course of his 35 year military career, Lt. Gen. James served numerous positions, including Air Force Deputy Chief of Staff for Intelligence, Surveillance and Reconnaissance at the Pentagon and Commander of the 14th Air Force.
James previously worked as a Space Shuttle Payload Specialist, GPS Program Manager, Titan IV Launch Director and Commander of the 50th Space Wing at Schriever AFB, CO, as well as on the staffs of US Space Command, Air Force Space Command, and HQ Air Force. He was commander of the 14th Air Force at Vandenberg AFB, responsible for all military satellite, launch and C2 operations, and was Director, Signals Intelligence Systems Acquisition and Operations Directorate, National Reconnaissance Office, Washington, D.C. He was the Director, Space Forces for Operation Iraqi Freedom at the Combined Air Operations Center, Prince Sultan Air Base, Saudi Arabia.
Lt. Gen. James received his Bachelor of Science in Astronautical Engineering (1978) from the US Air Force Academy (Distinguished Graduate) and his Master of Science in Aeronautics and Astronautics (1983) from the Massachusetts Institute of Technology, Cambridge MA. He was also a Draper Fellow at the Charles Stark Draper Laboratory in Cambridge MA.