Robert J. Hermann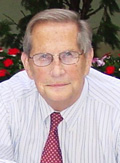 Hermann is a senior partner of Global Technology Partners, LLC, specializing in investments in technology, defense, aerospace, and related businesses worldwide. In 1998, he retired from United Technologies Corporation, where he was senior vice president, science and technology.
Prior to joining UTC in 1982, Hermann served 20 years with the National Security Agency with assignments in research and development, operations and NATO. In 1977, he was appointed Principal Deputy Assistant Secretary of Defense for Communications, Command, Control and Intelligence.
In 1979, he was named Assistant Secretary of the Air Force for research, development and logistics and in parallel was Director of the National Reconnaissance Office. Hermann received his bachelor's, master's and doctorate in electrical engineering from Iowa State University. He serves on several boards and commissions.