Keith R. Hall
This individual is a former member of the National Space-Based PNT Advisory Board. The following information has not been updated since his/her service ended.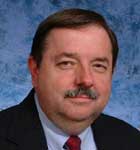 Hall is a vice president with Booz Allen Hamilton, McLean, Va., serving as the client service officer leading the firm's business with the National Reconnaissance Office. Hall joined Booz Allen on May 1, 2002, following a career in the federal government.
From February 1996 to December 2001, he served as Acting Director and Director of the National Reconnaissance Office. In March 1997, he was appointed by the President and confirmed by the Senate as Assistant Secretary of the Air Force (Space). As NRO Director, he was responsible for the acquisition and operation of U.S. space-based reconnaissance and intelligence systems. Within the Air Force, he was responsible for overall supervision of space matters, with primary emphasis on policy, strategy, and planning.
He was commissioned in the U.S. Army in 1970. He served nine years in Army intelligence and commanded two overseas operational intelligence units. In 1983 Senator Barry Goldwater appointed him as professional staff of the U.S. Senate Select Committee on Intelligence, where he served until 1991. From 1991-95, he served as Deputy Assistant Secretary of Defense for Intelligence and Security; he was Chairman of the National Counterintelligence Policy Board and Co-Chairman of the Intelligence Systems Board. Hall has a bachelor's in History and Political Science and an Honorary Doctorate from Alfred University, N.Y. He has a master's in Public Administration from Clark University, Worcester, Mass.
He received the Professional Achievement Award from the Office of Management and Budget, CIA Director's Award, Intelligence Community Distinguished Service Medal, and the Distinguished Civilian Service Medal from both the Department of Defense and the Air Force. He received the National Space Club's most prestigious award, the Dr. Robert H. Goddard Memorial Trophy.