Dana Goward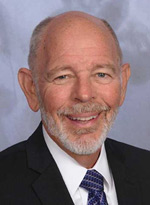 27 KB JPG
Mr. Dana Goward is the Founder, President, and Executive Director of the Resilient Navigation & Timing Foundation, a nonprofit, public benefit corporation that helps protect critical infrastructure by promoting resilient navigation and timing worldwide.
He is the proprietor at Maritime Governance, LLC. A licensed helicopter and fixed wing pilot, he has also served as a navigator at sea and is a retired Coast Guard Captain.
In August 2013, Mr. Goward retired from the federal Senior Executive Service, having served as the maritime navigation authority for the United States. As Director, Marine Transportation Systems for the US Coast Guard, he led 12 different navigation-related business lines budgeted at over $1.3 billion/year.
During his career, he has represented the US at IMO, IALA, the UN anti-piracy working group, and other international forums.