Martin C. Faga
This individual is a former member of the National Space-Based PNT Advisory Board. The following information has not been updated since his/her service ended.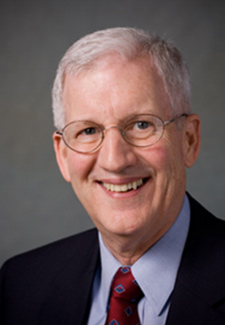 Faga retired as President, Chief Executive Officer of MITRE on June 30, 2006 and from the MITRE Board of Trustees in 2012. Prior to his promotion to president and CEO in May 2000, Faga served as executive vice president. Earlier, he was senior vice president and general manager of MITRE's Center for Integrated Intelligence Systems. Currently, Faga is a MITRE consultant and member of the Intelligence Advisory Board.
Before joining MITRE, Faga served from 1989 to 1993 as Assistant Secretary of the Air Force for Space, where he was responsible for overall supervision of service space matters. At the same time, he served as Director of the National Reconnaissance Office, responsible to the Secretary of Defense and the Director of Central Intelligence for the development, acquisition and operation of all U.S. satellite reconnaissance programs.
As a staff member of the Permanent Select Committee on Intelligence of the House of Representatives, he headed the program and budget staff. He was also an engineer at the CIA and an R&D officer in the Air Force. Faga was awarded the National Intelligence Distinguished Service Medal, DOD Distinguished Public Service Medal, Air Force Exceptional Civilian Service Medal and the NASA Distinguished Service Medal. In 2004, he was awarded the Intelligence Community Seal Medallion. He is a Fellow of the National Academy of Public Administration and is a member of the Board of Directors of the Association of Former Intelligence Officers.
He was appointed in 2006 by President Bush to the President's Foreign Intelligence Advisory Board and to the Public Interest Declassification Board. Since retiring from MITRE, Faga served on the Boards of Directors of Alliant Techsystems, Orbital ATK, Electronic Data Systems, DigitalGlobe and GeoEye. Faga received bachelor's and master's degrees in electrical engineering from Lehigh University.