Arve Dimmen
Norway
This individual is a former member of the National Space-Based PNT Advisory Board. The following information has not been updated since his/her service ended.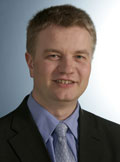 Dimmen is the Director of the Division for Maritime Safety at the Norwegian Coastal Administration. He is responsible for the Norwegian Maritime Services and the Marine Aids to Navigation Infrastructure. His division is running the maritime differential GPS service for the Norwegian area. He is the Norwegian member of the International Association of Marine Aids to Navigation and Lighthouse Authorities Council.
He has a Master of Science in Electronics from the Technical University of Norway in Trondheim, where he specialized in communication and radio navigation. From 1992-97, he was a scientist and a senior scientist at the Norwegian Defence Research Establishment; where he mainly worked with surveillance sensor technology and data fusion for military applications. He has international experience working both bilateral and NATO programs, and has worked with space based systems and space surveillance systems.