Susan Cischke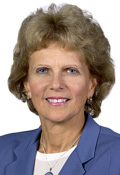 Cischke has been Vice President, Environmental and Safety Engineering for Ford Motor Company since January 2001. As Ford's top environmental and safety officer, she is responsible for assuring products meet or exceeds safety and environmental regulations. She helps shape corporate policy and works with global regulators on issues ranging from carbon dioxide emissions to pedestrian safety. Prior to joining Ford, Cischke was Senior Vice President of Regulatory Affairs and Passenger Car Operations at DaimlerChrysler.
She serves on the boards of the Chicago Climate Exchange, Oakland University's alumni association, and the Traffic Improvement Association of Oakland County; and is a member of the University of Michigan College of Engineering National Advisory Committee. In 1997, Cischke received the Horace H. Rackham Award for outstanding humanitarian achievements from the Engineering Society of Detroit; the first woman in the society's 102-year history to receive the award.
She has been named one of Automotive News's 100 Leading Women and one of Crain's Detroit Business Most Influential Women. She also was named the Detroit News Business Women of the Year. Cischke earned a bachelor's degree in engineering from Oakland University in Rochester, Mich. She also holds master's degrees in mechanical engineering and management from the University of Michigan-Dearborn.