Elizabeth Cannon
Canada
This individual is a former member of the National Space-Based PNT Advisory Board. The following information has not been updated since his/her service ended.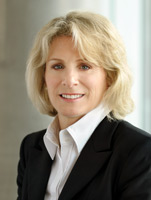 2.7 MB JPG
Dr. Elizabeth Cannon is the eighth president and vice-chancellor of the University of Calgary. A renowned expert in geomatics engineering, Dr. Cannon's research has been on the frontier of Global Positioning Systems (GPS) since 1984 in both industrial and academic environments, and she has commercialized technology to over 200 agencies worldwide.
Dr. Cannon has a long history of working effectively with industry and the community, and has served on numerous public- and private-sector boards and with national advisory groups and community committees, including positions as past president of the Institute of Navigation; board member and interim chair of the Canada Foundation for Innovation; director of the Enbridge Income Fund Holdings; and board member of the Royal Society of Canada, the Alberta Ingenuity Fund, and the TELUS World of Science. She was on the National Advisory Board on Earth Sciences to the Canadian Minister of Natural Resources, and has been a member of several NSERC (Natural Sciences and Engineering Research Council of Canada) committees and task forces.
Prior to assuming the position of president, Dr. Cannon was dean of the Schulich School of Engineering at the University of Calgary. She propelled the school into the top ranks of engineering schools and led the development of interdisciplinary research programs, enriched student leadership programs, and a community-endorsed five-year strategic plan.
Throughout her career, Dr. Cannon has blazed a trail for women in non-traditional areas and worked to ensure that women receive opportunities to excel, particularly in science and engineering. From 1997 to 2002, she held the NSERC/Petro-Canada Chair for Women in Science and Engineering for the Prairie Region. In this capacity, she focused on raising public awareness about science and engineering careers for women, and conducted research on factors influencing men and women to select these careers. She also developed several innovative programs such as Cybermentor and Explore IT to encourage and retain women in science and engineering fields.
In 1998, Dr. Cannon was selected as one of Canada's Top 40 Under 40. In 2006, she was named one of Canada's Top 100 Most Powerful Women by the Women's Executive Network. In 2012, she was recognized with APEGA's Centennial Leadership Award. During her years as a professor at the Schulich School of Engineering, she also won numerous teaching and research awards, and still takes great pride in following the success stories of the many graduate students she trained and mentored.