Scott Burgett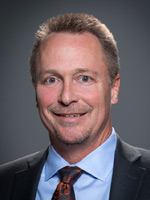 634 KB JPG
Mr. Burgett is the Director of Global Navigation Satellite Systems for Garmin International. He has been a principal architect in the integration of GPS technology into Garmin's consumer and aviation products.
Burgett conducted early research into wearable GPS technology. He was instrumental in the creation of turn-by-turn automotive navigation systems combining GPS and dead reckoning technology. He also contributed to the development of TSO-C129a and N8110 certified aviation equipment.
Burgett's involvement in GPS dates to 1991, when he worked at Sandia National Laboratories on the integration of GPS with inertial navigation systems, precision guidance, and motion measurement for imaging radars.
Burgett holds a B.S. in Electrical Engineering from Kansas State University and a M.S. in Electrical Engineering from the University of New Mexico. He is a named inventor on 17 patents related to the integration of GPS technology with sensors and the use of GPS in portable navigation devices.