John Betz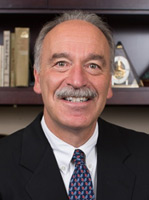 Dr. Betz is a Fellow of the MITRE Corporation, involved in programs that develop and apply advanced technologies in communications, surveillance, and navigation. Since 1997, he has worked primarily on signals, receiver processing, and systems engineering for the Global Positioning System (GPS) and other satellite-based navigation systems.
Dr. Betz was a member of the U.S. Air Force Scientific Advisory Board (SAB) from 2004 to 2012, serving as its chairman from 2008 to 2011, leading 52 accomplished engineers and scientists who advise the Air Force senior leadership. He is currently a consultant to the SAB and to the Defense Science Board.
Dr. Betz led the team of scientists and engineers designing the modulation and acquisition of the M-code signal, the modernized GPS military signal. He developed the binary offset carrier (BOC) spreading modulation, and models for predicting its performance. He also contributed to the design of the GPS L1C civil signal, and was integral to the design of the Multiplexed BOC (MBOC) concept and the time-multiplexed BOC (TMBOC) spreading modulation used for L1C.
Dr. Betz was a lead technical contributor to the U.S. delegation in negotiations with the European Community concerning GPS and Galileo, leading to the 2004 Agreement between the U.S. and European Community. Since 2004, he has contributed to U.S.-European working groups addressing topics in compatibility and interoperability. He also has been a key member of technical working groups between the U.S. and Japan, the Russian Federation, China, and India, leading to other nations' adoption of civil signals compatible and interoperable with GPS.
From 1994 to 2000, Dr. Betz was an Adjunct Professor of Electrical and Computer Engineering at Northeastern University and from 2005 to the present he has been an instructor for NavtechGPS, teaching short courses in North America and Europe on topics related to satellite-based navigation systems, signals, and receiver processing.
Dr. Betz received a B.S. in Electrical Engineering from the University of Rochester in 1976, and a M.S. (1979) and Ph.D. (1984), both in Electrical Engineering from Northeastern University. He is co-inventor on four patents or patent applications, and has authored more than 50 publications including book chapters, journal articles, and conference papers. He is a Fellow of the IEEE, and also a Fellow of the Institute of Navigation. For his role in the GPS-Galileo negotiations, he received the U.S. State Department Superior Honor Award.