Information About GPS Jamming
Jamming devices are radio frequency transmitters that intentionally block, jam, or interfere with lawful communications, such as cell phone calls, text messages, GPS systems, and Wi-Fi networks.
Jammers are illegal to market, sell, or use in the United States.
A single violation of the jamming prohibition can result in tens of thousands of dollars in monetary penalties, seizure of the illegal device, and imprisonment.
FCC Proposes $32K Penalty for Individual User of GPS Jamming Device
NEW On August 2, 2013, the Federal Communications Commission (FCC) Enforcement Bureau proposed a fine of nearly $32,000 for an individual whose illegal use of a GPS jamming device on the highway outside Newark Airport interfered with an aviation safety system in 2012. Learn more...
The FCC previously confiscated a GPS jammer from another driver outside Newark Airport in 2010. Learn more...
FCC Advisories and Educational Materials
Other Major Enforcement Actions
In October 2011, the FCC announced it had issued 20 enforcement actions against online retailers in 12 states for illegally marketing more than 200 uniquely-described models of jamming devices. Learn more...
In October 2012, the FCC announced enforcement actions against individuals selling signal jamming devices on craigslist.org, warning that the Bureau intends to impose substantial monetary penalties for similar violations going forward. Learn more...
In April 2013, the FCC fined two companies for using illegal signal jammers at their worksites. The fines were set at $144,000 and $125,000, respectively.
A complete list of enforcement actions against illegal jammers is available at FCC.gov. Go there...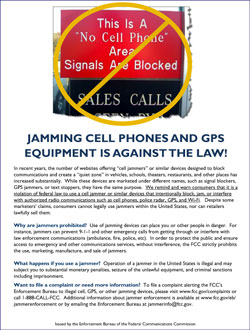 Jammer Tip Line:
1-855-55-NOJAM
Frequently Asked Questions About GPS Jammers
"We need consumers to be our eyes and ears. Jammers do not just weed out noisy or annoying conversations and disable unwanted GPS tracking, they can prevent 9‑1‑1 and other emergency phone calls from getting through in a time of need."
Michele Ellison, Chief of the Enforcement Bureau, FCC
FOR ADDITIONAL INFORMATION, VISIT FCC.GOV/JAMMERS: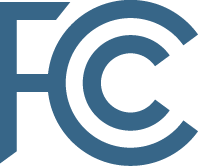 Learn about applicable laws, recent enforcement actions, and more.
Some links on this page lead to content in the Portable Document Format (PDF) and may require you to install PDF software. Get software