Newsletter for Congressional Staff
On this page...
Some links on this page lead to content in the Portable Document Format (PDF) and may require you to install PDF software. Get software...
The National Coordination Office for Space-Based Positioning, Navigation, and Timing sends the GPS Tracker newsletter to Capitol Hill staff and other interested parties on a periodic basis. Learn about the Office...
January 2014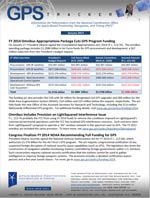 READ PDF (188 KB)
FY 2014 Omnibus Appropriations Package Cuts GPS Program Funding
Omnibus Includes Provision on LightSquared Interference Issue
Congress Finalizes FY 2014 NDAA Recommending Full Funding for GPS
November 2013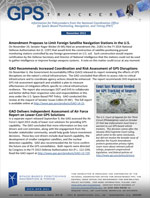 READ PDF (438 KB)
Amendment Proposes to Limit Foreign Satellite Navigation Stations in the U.S.
GAO Recommends Increased Coordination and Risk Assessment of GPS Disruptions
GAO Delivers Independent Assessment of Air Force Report on Lower-Cost GPS Solutions
Court Says Warrant Needed for GPS Tracking of Suspects
August 2013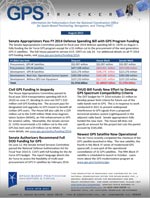 READ PDF (190 KB)
Senate Appropriators Pass FY 2014 Defense Spending Bill with GPS Program Funding
Civil GPS Funding in Jeopardy
Senate Authorizers Recommend Full DOD Funding for GPS
THUD Bill Funds New Effort to Develop GPS Spectrum Compatibility Criteria
Newest GPS Satellite Now Operational
June 2013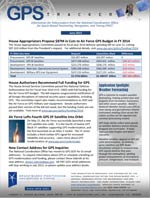 READ PDF (227 KB)
House Appropriators Propose $87M in Cuts to Air Force GPS Budget in FY 2014
House Authorizers Recommend Full Funding for GPS
Air Force Lofts Fourth GPS IIF Satellite into Orbit
New Contact Address for GPS Inquiries
Application Spotlight: Weather Forecasting
April 2013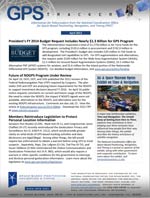 READ PDF (259 KB)
President's FY 2014 Budget Request Includes Nearly $1.3 Billion for GPS Program
Future of NDGPS Program Under Review
Members Reintroduce Legislation to Protect Personal Location Information
Air & Space Museum Opens Exhibit on Time & Navigation
March 2013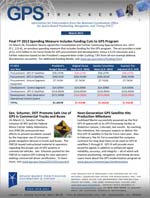 READ PDF (378 KB)
Final FY 2013 Spending Measure Includes Funding Cuts to GPS Program
Sen. Schumer, DOT Promote Safe Use of GPS in Commercial Trucks and Buses
Next-Generation GPS Satellite Hits Production Milestone