Upcoming Events
Legislative Updates
New Bill on PNT Resilience and Security

(Mar 27) Yesterday, Rep. John Garamendi introduced H.R. 1678, the National Positioning, Navigation, and Timing Resilience and Security Act of 2015. The bill proposes that, "The Secretary of Defense, in consultation with the Commandant of the Coast Guard and the Secretary of Transportation, shall provide for the establishment, sustainment, and operation of a reliable land-based positioning, navigation, and timing system to provide a complement to and backup for GPS to ensure the availability of uncorrupted or non-degraded positioning, navigation, and timing signals for military and civilian users if GPS signals are corrupted, degraded, unreliable, or otherwise unavailable."

Report to Congress on GPS Constellation Replenishment

(Mar 24) The Air Force submitted a report to Congress on GPS constellation replenishment as directed last year in House Report 113-446.

GAO Report Includes Assessments of GPS III, OCX

(Mar 19) On March 12, the Government Accountability Office published a report on "Defense Acquisitions: Assessments of Selected Weapon Programs." The report includes assessments of the GPS III and the GPS Next Generation Operational Control System (OCX) programs.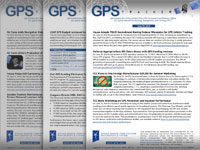 Newsletter
More congressional info