Upcoming Events
Legislative Updates
Coast Guard Bill Includes Language on E-LORAN

(Feb 1) This week, the House of Representatives plans to vote on the Coast Guard Authorization Act of 2015, which includes new guidance and authority concerning "Disposition of Infrastructure Related to E-LORAN". The bill passed the House in December and was adopted with an amendment in the Senate.

National Coordination Office Recognized by Rep. Lamborn

(Jan 8) On January 5, 2016, the Congressional Record published Congressman Doug Lamborn's (R-CO) remarks recognizing the National Coordination Office (NCO) on its ten year anniversary. The Congressman said, "Earlier this year I worked with the NCO at a Space Power Caucus event on GPS. As chairman of the caucus, I presided over this event and was impressed by the educational information on how GPS works, how it affects our daily lives and critical infrastructure, and ongoing government efforts to maintain GPS as the gold standard for PNT around the world. The transparent operations of the NCO keep track of these vital efforts and inform the EXCOM agencies, Congress, and the public on Space-based PNT."

Final Omnibus Funds Air Force GPS Program in FY 2016, Rescinds $30M from FY 2015

(Dec 18) On December 18, 2015, President Obama signed the Consolidated Appropriations Act of 2016 (H.R. 2029) into law. The omnibus funding measure provides $936.775 million to the Air Force GPS program in FY 2016. This represents a reduction of $2 million versus the President's request, with the cut applied to the GPS IIF program. Appropriators also rescinded $30 million of funds previously appropriated for GPS III advance procurement.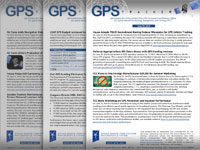 Newsletter
More congressional info