Upcoming Events
Legislative Updates
"GPS Tracker" Newsletter: Oct 24 Issue

(Oct 24) Appeals Court Issues New Ruling on Warrantless GPS Vehicle Tracking · Mr. Harold Martin Named Director of National Coordination Office · Artist Uses GPS to Install Giant Portrait on National Mall Grounds

"GPS Tracker" Newsletter: Sep 8 Issue

(Sep 8) Analysis: What Could Happen to GPS Funding Under a Continuing Resolution? · Report to Congress on GPS Multi-Year Procurement · Football Teams Use GPS to Optimize Athletes' Performance · GPS Facts: Constellation Size

Report to Congress on Multi-Year Procurement of GPS III Satellites

(Aug 11) In April, the Air Force submitted a report to Congress titled, "Global Positioning System III Space Segment Suitability for Multi-Year Procurement." The report was directed by the Senate Armed Services Committee. It does not constitute an Air Force position, but rather one option the Air Force is evaluating for procuring future GPS III satellites at a reduced unit price.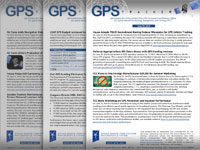 Newsletter
More congressional info