Upcoming Events
Legislative Updates
Senate Appropriators Propose Major GPS Cuts

(May 27) Yesterday, the Senate Appropriations Committee passed S. 3000, their FY 2017 defense bill. The bill would fund the GPS program at $585.032 million, $262.33 million less than the President's request.

Senate NDAA Includes Provisions on GPS OCX

(May 20) The version of the National Defense Authorization Act (NDAA) that passed the Senate Armed Services Committee last week fully supports the FY 2017 request for the GPS program. However, it includes two provisions related to the GPS Next Generation Operational Control System (OCX), one of which affects the funding for OCX. We expect the full Senate to consider the NDAA next week. The House passed its version of the bill yesterday.

House Appropriators Fully Fund GPS Program

(May 17) We updated our FY 2017 funding page to reflect today's markup of the DOD spending bill by the House Appropriations Committee.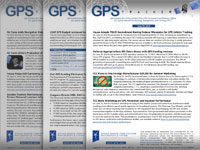 Newsletter
More congressional info