Upcoming Events
Legislative Updates
Senate NDAA Includes No GPS III Procurement Funds

(May 22) The Senate Armed Services Committee released the text of the defense authorization bill that it passed on May 14. The bill, S. 1376, recommends no funding for GPS III satellite procurement in FY 2016, vs. the request for $199.218 million, but would fully fund all other GPS program elements.

Bill Mentions National Coordination Office for Space-Based PNT

(May 11) On Wednesday, May 13, the House Science Committee will mark up several bills, including the Office of Space Commerce Act. Among other things, the act would amend the statutory functions of the Commerce Department's Office of Space Commercialization to include: "provide support to Federal Government organizations working on Space-Based Positioning, Navigation, and Timing policy, including the National Coordination Office for Space-Based Position, Navigation, and Timing."

State Department Testimony Highlights International GPS Cooperation

(May 7) Acting Assistant Secretary of State Judith Garber from the Bureau of Oceans and International Environmental and Scientific Affairs testified at a Senate Foreign Relations Committee hearing yesterday. Her testimony includes the statement that, "A huge success for the Bureau over the past fifteen years has been the coordination of a broad diplomatic effort to encourage acceptance of the U.S. Global Positioning System (GPS) as a worldwide standard for satellite-based navigation."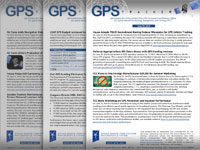 Newsletter
More congressional info