Upcoming Events
Legislative Updates
NDAA Conference Report Clears House

(Dec 2) On Dec 2, the House of Representatives passed the FY 2017 National Defense Authorization Act (NDAA), which recommends fully funding the GPS program and features provisions relating to the Next Generation Operational Control System (OCX), foreign PNT systems, backup and complementary PNT, and harmful interference.

GAO Reviews Air Force Report on GPS Acquisition

(Oct 21) On October 17, the Government Accountability Office (GAO) released its assessment of the Air Force's first quarterly report on GPS acquisition. The FY 2016 National Defense Authorization Act (NDAA) requires the Air Force to provide quarterly reports to GAO on GPS acquisition programs. It further directs GAO to brief the congressional defense committees on the Air Force's initial report. GAO found that the first Air Force report lacked key information needed to track the quarterly progress of GPS III, OCX, and military user equipment. GAO also made recommendations for improving the transparency and effectiveness of future quarterly reports.

DoD Certifies GPS OCX Program to Congress

(Oct 14) On October 13, Under Secretary of Defense Frank Kendall sent Congress the certification required by law to avoid termination of the GPS Next Generation Operational Control System (OCX) program. The Air Force had declared a critical Nunn-McCurdy breach (cost overrun) in the OCX budget on June 30, triggering a mandatory process to either cancel or restructure the program. The OCX system will command all modernized and legacy GPS satellites, manage all civil and military navigation signals, and provide improved cybersecurity and resilience for the next generation of GPS operations. The alternatives to certifying the program included several options, including program termination, but this was deemed simply unworkable, due to the extended time it would require to design and field a new ground system for the vital GPS III network.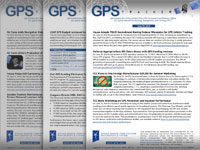 Newsletter
More congressional info