Upcoming Events
Legislative Updates
GPS OCX Program Under Termination Review

(Sep 19) On June 30, the Air Force announced a critical Nunn-McCurdy breach (cost overrun) in the Next Generation Operational Control System (OCX) budget, triggering a mandatory process to either cancel or restructure the program (10 U.S.C. § 2433a). OCX is the future version of the GPS control segment. The Nunn-McCurdy process is expected to conclude in mid-October of this year. Prior to June 30, both the House and Senate passed specific legislative provisions addressing their respective concerns with the OCX program. In addition, the Senate Appropriations Committee recommended terminating most of OCX.

37 Nationwide Differential GPS Sites Shut Down, Leaving 46 Operational

(Sep 19) On August 4, the U.S. Department of Transportation (DOT) and the U.S. Coast Guard (USCG) ceased broadcasting from 37 sites of the Nationwide Differential Global Positioning System (NDGPS). Fielded in the 1990s, NDGPS service augments GPS by providing increased accuracy and integrity using land-based reference stations to transmit correction messages over radiobeacon frequencies. Due to the improved accuracy of standalone GPS, and with the availability of other GPS augmentation solutions, the government decided to downsize NDGPS, eliminating the inland component and providing single coverage of coasts and waterways. The decision was reached after reviewing public comments on several Federal Register notices issued by DOT and USCG.

Senate Appropriators Propose Major GPS Cuts

(May 27) Yesterday, the Senate Appropriations Committee passed S. 3000, their FY 2017 defense bill. The bill would fund the GPS program at $585.032 million, $262.33 million less than the President's request.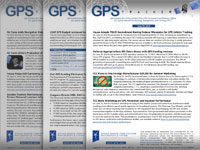 Newsletter
More congressional info