Colonel Harold Martin
Deputy Director, National Coordination Office for
Space-Based Positioning, Navigation, and Timing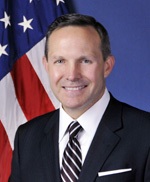 Download higher resolution JPG (84 KB)

Colonel Harold W. "Stormy" Martin III has served as Deputy Director of the National Coordination Office for Space-Based Positioning, Navigation, and Timing since July 2012.
Previously, Colonel Martin was the Command Lead for Positioning, Navigation, & Timing for Headquarters Air Force Space Command, Peterson AFB, Colo. He also functioned as the Chief, Military Satellite Communications (MILSATCOM) Operations Division (A3M) and Chief, Position, Navigation & Timing (PNT) Operations Division (A3P) for HQ AFSPC. In these positions, his divisions ensured successful transition of new operational capabilities to the warfighter and were responsible for the organizing, training, and equipping of the MILSATCOM and PNT mission areas managed by HQ AFSPC. Further, the divisions ensured operations and sustainment of critical combat support to eight Air Force satellite systems to include GPS and Milstar.
Colonel Martin graduated from Purdue University in 1986 and was commissioned as a Distinguished Military Graduate from Air Force Officer Training School in 1988. His operational assignments include Adjutant for the 71st Air Refueling Squadron at Barksdale AFB, La., Deputy Flight Commander for the 1st Space Ops Squadron, Tactics Flight Commander at Onizuka Air Force Station, Calif, Operations Officer for the 2nd Space Ops Squadron and Commander of the 50th Ops Support Squadron at Schriever AFB.
His staff assignments include Chief of Space Support and Force Enhancement, and Deputy Director and Director of the Air Force Deputy Chief of Staff for Air and Space Operations Action Group, Headquarters U.S. Air Force, Washington, D.C. He was also Chief of Military Satellite Communications Operations and Chief of Navigation Operations at Headquarters Air Force Space Command, Peterson AFB, Colo.