James Schlesinger
Advisory Board Chair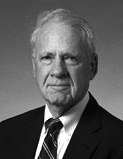 Dr. Schlesinger is chairman of the board of MITRE. He is also a consultant to the Departments of State and Defense, and a member of the Defense Policy Board and the International Security Advisory Board.
He co-chaired the Defense Science Board task force on the future of GPS. He is a fellow of the National Academy of Public Administration and a member of the American Academy of Diplomacy. He is a director for Evergreen Energy and Sandia National Corporation. He is also a counselor and trustee of the Center for Strategic and International Studies, a trustee of the Atlantic Council, the Nixon Center, the National Cryptologic Museum Foundation, the Center for Global Energy Studies, and the Henry M. Jackson Foundation.
From 1977-79, Dr. Schlesinger was the nation's first Secretary of Energy. From 1973-75, he was the Secretary of Defense. Prior to that, he served as Director of Central Intelligence. From 1971-73, he was Chairman of the Atomic Energy Commission. He began government service in 1969 as Assistant Director of the U.S. Bureau of the Budget (later the Office of Management and Budget), where he also served as Acting Deputy Director.
Dr. Schlesinger received his bachelor of arts (summa cum laude), master of arts, and doctoral degrees from Harvard University.