Bradford Parkinson
Advisory Board Vice Chair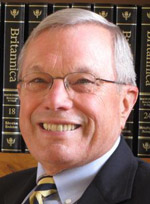 A Stanford University professor since 1984, Parkinson was named the Edward C. Wells Professor of Aeronautics & Astronautics, an endowed chair. He is the principal investigator for several GPS research programs at Stanford and continues to teach innovative uses of GPS. He is author or coauthor of more than 100 technical papers about GPS, and he is the co-editor of the AIAA's best selling two volume set, Global Positioning System: Theory and Applications.
He was the chairman of the Aerospace Corporation and is on the board of directors of Navigation Technology Ventures. He is the chair of the Jet Propulsion Laboratory Advisory Council; has served in various positions for the National Academy of Engineering; and was the chair of the NASA Advisory Council. He was appointed a member of The Presidential Commission on Air Safety and Security. Parkinson has been inducted into the NASA Hall of Fame and into the National Inventors Hall of Fame. In 2003 he was awarded the Draper prize of the National Academy of Engineering.
Parkinson earned a Bachelor of Science degree in General Engineering at the U.S. Naval Academy and a Master of Science in Aeronautics and Astronautics at MIT. His doctorate is in Aeronautics and Astronautics from Stanford. He served as head of the Department of Astronautics and Computer Science at the U.S. Air Force Academy.
He logged more than 150 hours of combat missions in Southeast Asia. He served in the Air Force 1957 to 1978, retiring as a colonel. Among his military awards are the Bronze Star, Legion of Merit, Meritorious Service Medal, Air Medals and a Presidential Unit Citation.
In his last Air Force assignment, he directed the effort to define a new satellite-based navigation system, which became the Global Positioning System. He helped design the system, which was approved by DOD in 1973. He then formed and ran the NavStar GPS Joint Program Office. The program developed the GPS satellites, ground systems, user equipment and an extensive test program, which validated the performance of the new world-wide system.