Ann Ciganer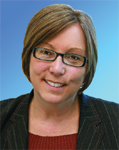 Ciganer is a principal founder and executive director of policy for the U.S. GPS Industry Council organized in 1991. Ciganer, a former research analyst at SRI International, is also Vice President of Strategic Policy at Trimble Navigation Limited, a GPS Council member. The council is an information resource to government, the public and the media on GPS technology, markets and applications. The council interacts with international associations, such as the Japan GPS Council, to facilitate communication and cooperation as industry information resources on Global Navigation Satellite Services.
She has worked with the U.S. government to develop a comprehensive export policy for GPS equipment and products. She developed consensus industry positions for studies on the future and management of GPS, and augmentations, by the National Research Council, National Academy of Public Administration, and RAND Critical Technologies Institute. Ciganer provided industry positions to a White House Interagency Working Group, which helped develop the first comprehensive national policy on GPS announced in 1996.
She supported the U.S. delegation to the International Telecommunications Union World Radiocommunications Conference in 1997 and 2000, and in 2003 served as a senior private sector advisor on radio frequency agenda items concerning the Radionavigation Satellite Services.