USG Presentations from
Congressional Outreach Event
March 14, 2008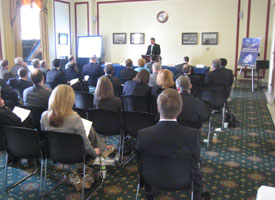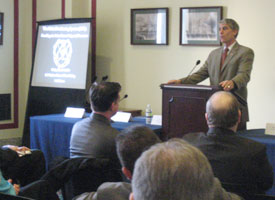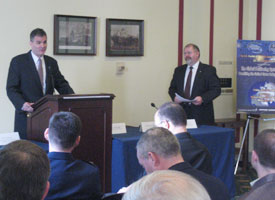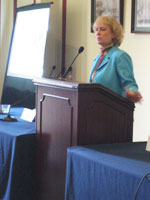 The following presentations were delivered by the U.S. Government panelists at a congressional outreach event focusing on The Global Positioning System (GPS): Benefiting the United States Today and Tomorrow. The event was organized by the Space Enterprise Council of the U.S. Chamber of Commerce and the U.S. GPS Industry Council.

DOWNLOAD 3.3 MB

Panel I: Benefits to U.S. Economic, National, and Homeland Security

Ed Morris, U.S. Department of Commerce

This presentation provides an overview of government uses and benefits of space-based PNT, and the U.S. policies that have stimulated the growth of this technology. It also describes some of the Commerce Department's activities as a user, provider/developer, and manager/promoter of space-based PNT.


DOWNLOAD 6.3 MB

United States Department of Agriculture

Gary Mast, U.S. Department of Agriculture

This presentation provides an introduction to USDA and the ways that USDA agencies utilize space-based PNT technology to accomplish their missions


DOWNLOAD 9.6 MB

Global Positioning System

Major Charles Daniels, U.S. Air Force

This briefing provides an overview of the Global Positioning System, its performance, and its national security benefits. It also describes the GPS modernization program.


DOWNLOAD 10 MB

FAA Global Navigation Satellite System (GNSS) Program Plans and Status

Leo Eldredge, Federal Aviation Administration

This presentation describes the role of space-based PNT systems in meeting growing aviation needs. It provides updates on the Wide Area Augmentation System (WAAS) and Local Area Augmentation System (LAAS).


DOWNLOAD 2.1 MB

Domestic Space-Based PNT Interference Detection and Mitigation

Captain Curtis Dubay, U.S. Department of Homeland Security

This briefing explains current and future processes for detecting and mitigating interference to U.S. space-based PNT systems.


DOWNLOAD 11.6 MB

Position, Navigation and Timing: GPS Scientific Applications

Ruth Neilan, NASA

This presentation describes scientific applications of GPS dating back to the 1980s, including high-precision geodesy to measure the changing shape of the planet and spaceborne uses of GPS aboard science satellites. The briefing also describes NASA's Global Differential GPS capabilities and the International GNSS Service.
Some links on this page lead to content in the Portable Document Format (PDF) and may require you to install PDF software. Get software
Some links on this page lead to content in Microsoft PowerPoint (PPT) format and may require you to install PowerPoint reader software. Get software