John Stenbit
Advisory Board Chair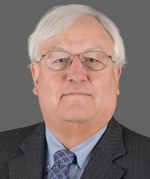 The Honorable John P. Stenbit is the former Assistant Secretary of Defense for Command, Control, Communications, and Intelligence and its successor organization, Networks and Information Integration, and the former Department of Defense (DoD) Chief Information Officer.
His career spans over 30 years of public and private sector service in the telecommunications and the command and control fields. He previously held positions at TRW and the Aerospace Corporation.
Mr. Stenbit is currently a consultant and member of the Defense Science Board, the National Security Agency Advisory Board, the STRATCOM Advisory Board, and the National Reconnaissance Office Advisory Group. He is a director at Viasat, Defense Group Inc., and Loral Space & Communications. During 2005-2017, he was a member of the MITRE Board of Trustees.
Mr. Stenbit holds bachelor's and master's degrees in electrical engineering from the California Institute of Technology. He is a member of Tau Beta Pi, the engineering honor society. In 1999, Mr. Stenbit was inducted into the National Academy of Engineering. He has received the Secretary of Defense Medal for both Outstanding and Exceptional Public Service.