Ann Ciganer
This individual is a former member of the National Space-Based PNT Advisory Board. The following information has not been updated since his/her service ended.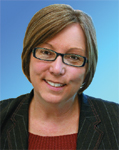 Ms. Ann Ciganer is a member of the GPS Innovation Alliance (GPSIA) Board of Directors and also serves as Vice President of Strategic Policy at Trimble, Inc., a GPSIA member. Ciganer was a principal founder and director of policy for the U.S. GPS Industry Council (USGIC) organized in 1991, the predecessor of GPSIA. Prior to Trimble and USGIC, Ciganer was a Research Analyst at SRI International. 
The GPS Innovation Alliance recognizes the increasing importance of GPS and other GNSS technologies to the global economy and infrastructure and is firmly committed to furthering GPS innovation, creativity and entrepreneurship. GPSIA seeks to protect, promote and enhance the use of GPS.
Ciganer and USGIC members worked with the U.S. Government to develop a comprehensive export policy for GPS equipment and products.  She developed consensus industry positions for studies on the future and management of GPS, and augmentations, by the National Research Council, National Academy of Public Administration, and RAND Critical Technologies Institute. She supported the U.S. delegation to the International Telecommunications Union (ITU) World Radiocommunications Conference (WRC) in 1997, 2000, and in 2003 served as a senior private sector advisor on radio frequency agenda items concerning the Radionavigation Satellite Service (RNSS).